Hetch Hetchy Water and Power reported on April 1 as follows:
Good morning,
Update on HHWP releases.
All reservoir valve releases remain at minimum in-stream requirements (HH: 35 cfs; CH: 5 cfs; EL: 5 cfs).
Holm Powerhouse will continue to cycle between approximately 15 MW – 150 MW (approx. 100 – 900 cfs), with higher flow periods occurring from 16:00 through midnight.

Next week, Apr 5-8, Holm will cycle within a smaller range (approx. 200-700 cfs)
On April 14, Holm is scheduled for a maintenance outage from 07:00 – 16:00, with generation expected to resume with a similar cycling pattern afterward

Kirkwood Powerhouse will continue to operate flat with minimal spill
Lake Eleanor is expected to fill and begin spilling over the current spillway elevation beginning Saturday, with 250-500 cfs spill possible through the weekend.

Depending on weather and inflows, spill from Eleanor may persist through much of April. We will keep you posted.
Projection below is a current best estimate (subject to change) for flows at the Cherry/Tuolumne confluence below Early Intake. Discharge at Merals Pool will be higher due to additions from downstream reach gains and South Fork confluence flows.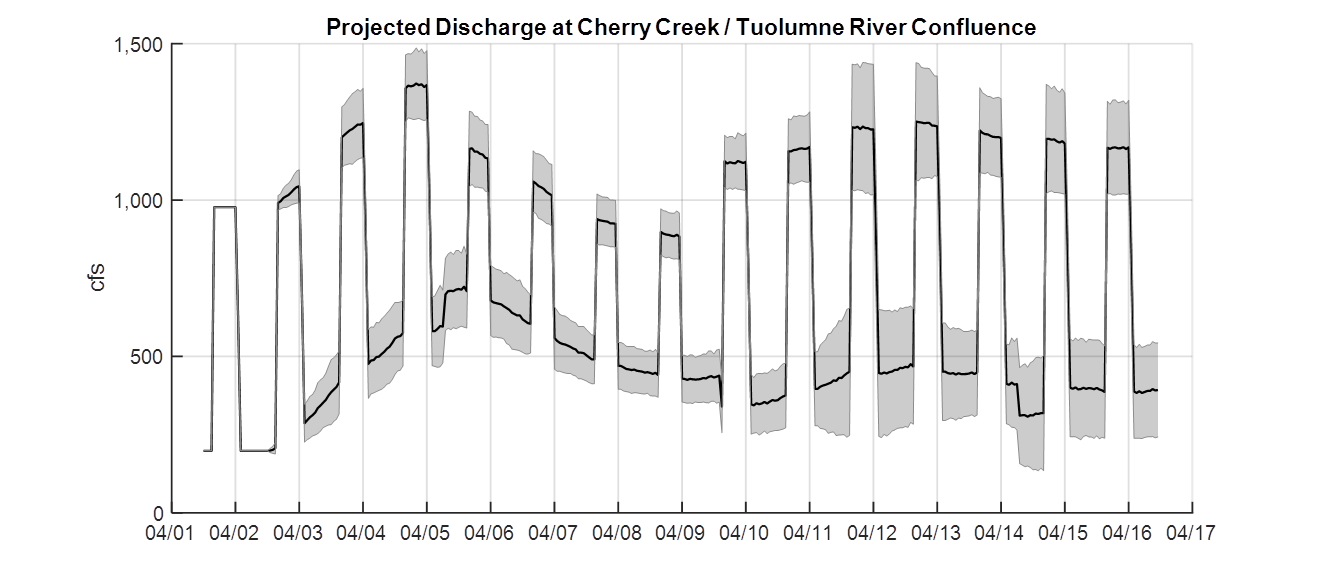 As always, all flow rates are best estimates and are subject to change as operational needs or constraints arise.